TUDOR ROSE
Back to Top
TUDOR ROSE
We use the Tudor Rose at the end of all our web pages because we are an English-Welsh team, and the the tudors origins were in Wales and they rose to rule both countries under Henry VII. (The Tudor Rose is the national flower of the English. Wales has the leek, Scotland the thistle and Ireland the shamrock.)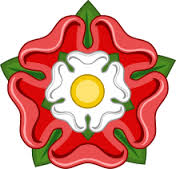 HISTORY OF TUDOR ROSE
This flower metaphorically signified the union of two competing dynasties, Lancaster and York. Just as we try to respect the strengths and integrity of both Pilates and Yoga.
The tudor rose emblem was invented by Henry VII after the War of the Roses to signify one country at peace with itself.
The Lancatrian red rose barely existed before Henry VII. Lancastrian Kings occasionaly used a rose emblem but it was gold colured.
Edward IV used a white rose as an emblem beween 1461 to 1485.
PICTURES
PICTURES